Sustainability in Crisis: conference 26-28 Sept
Submitted by anne miller on Tue, 23/08/2011 - 09:46
This is an interesting looking conference at Murray Edwards college, with an impressive range of speakers from Satish Kumar to Juliet Davenport.
The cost for local residents is very reasonable £160 or £70 for students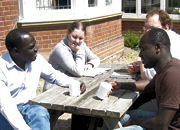 Sustainability in Crisis is a three-day cross-disciplinary consultation being held in Cambridge in September 2011, aimed at thought-leaders, academics, campaigners and policy-makers, representing a variety of religious perspectives or none. It will serve as a forum for informed and honest conversation about the challenges we all face and the distinctive contribution religions might make to addressing them.