Cambridge Wood Works: Cheap "eco" wood and social benefit
Submitted by anne miller on Tue, 23/08/2011 - 12:43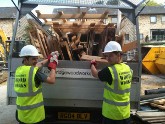 Our speaker is David Ousby, founder of the community interest company and social enterprise, Cambridge Wood Works: a great local source of cheap and environmentally friendly wood. David will talk about how they are building a profitable social enterprise turning waste wood into a valuable resource, while fulfilling their twin social aims of "providing training and employment" and "educating and informing people about climate change".
He will also share some of the challenges they have faced along the way.

Cambridge Wood Works have adopted the relatively new legal structure of "Community Interest Company" so it will be interesting to hear his views on how green entrepreneurs can use this to as a way to structure a business to produce both profit and social benefit.

David has an MBA and tells me that he relishes being asked probing questions about how the business works!

Cost £5
Start Date:
Mon, 26/09/2011 -

19:30

-

21:30
Location:
Friends Meeting House, 12 Jesus Lane, Cambridge, CB5 8BA